Hi, welcome to my unbiased Focus Factor review and analysis. In was brought to our attention by one of our readers who was able to experience 'amazing' results with it. Focus Factor claims to be able to improve memory, concentration, and focus by providing valuable nutrition, allowing it to perform at its very best.
It's seen a lot of success, judging by the amount of reviews online, and the general word about it through various review sites. Additionally, it boasts being distributed on many platforms, from Costco, to Vitamin Shoppe, to Amazon. This isn't something that often occurs with many brain enhancers available out there.
This allows maximum exposure, allowing an immense amount of sales. This, of course, has been great for the founders of Focus Factor. Focus Factor sets itself apart by offering a unique blend of not only brain enhancing ingredients, but also the use of minerals and vitamins that support nutrition and 'brain health.'
Focus Factor Review – What is It?

Focus Factor Ingredients
As mentioned, Focus Factor, despite its name, actually also offers improvements to memory and concentration. Their ingredients claim to have been carefully selected to support healthy brain function. Unfortunately, although they might have had good intentions, the ingredients in Focus Factor are really diluted with the many additives that they've included.
In fact, Focus Factor contains 40 ingredients, which is a rather hefty amount. This resonates in its recommended usage and daily serving as Focus Factor is recommended at 4 tablets a day – something that isn't exactly convenient, especially for those on a busy schedule or those who simply cannot remember to take a tablet four times a day.
This is one of the problems that occur when there is really too many ingredients in a pill or tablet. There really isn't enough space in a tablet to support that many ingredients, and when they do, the ingredients are in sparing amounts. Multivitamins are great. However, when they're taking away from the efficacy and potency of what could be a great cognitive enhancer, you understand why we're against this sort of thing.
What we can say, though, is if the minerals and vitamins were taken out of the equation, Focus Factor would have a pretty impressive formula, including around 20 ingredients that all contribute towards optimal cognitive performance.
Experimenting with Focus Factor
Admittedly, we were quite turned off by the fact that there were so many ingredients in Focus Factor, causing us to have to take it four times a day. In all honesty, they could have simply made their tablets bigger and asked for a twice-a-day serving. However, we still did run with it. It wasn't easy though!
What was almost immediately noticeable with Focus Factor was that although it wasn't exactly the most potent we've tried, it still did the job. After taking it, the transition into a focused mode was very smooth and you really couldn't feel it until up to maybe an hour after taking it. However, we were able to 'get in the zone' with Focus Factor, and finishing work was much easier without any distractions. Over the course of eight weeks, we were able to notice some minor improvements in memory as well.
What was most notable, though, was that Focus Factor actually made us feel good throughout the duration of us testing it. None of us reported any foggy feelings the day after its use. In fact, we felt, energized!
Focus Factor Price
What was quite impressive to us as well was how they were able to drive Focus Factor's price to the amount that it is now – $19.99. We really haven't seen any other brain pill or nootropic supplement at this price before, offering 150 tablets, which actually provides more than a month's worth of brain pills: 37.5 days to be exact.
The price is extremely attractive, and while it might not be the best out there, with its incorporation of a lot of minerals and vitamins, those starting in the world of nootropics might find this a cheap and good option.
Focus Factor Customer Reviews
Sadly, we only had one reader who reported to us about Focus Factor, but he did say it was amazing. He mentioned that it really did help his exam scores in college as he was able to study more efficiently, and for longer periods of time. He also reported no side effects.
Aside from this, we were also able to come up with what most other people said regarding Focus Factor on a number of review sites, and even just Costco's, Amazon's, and Vitamin Shoppe's customer reviews. While there were some comments on a lack of potency and overall effectiveness, Focus Factor was still praised by the majority for its affordability, and that it did work without posing any side effects at all.
Focus Factor vs Prevagen vs Neuriva – Which Is Better?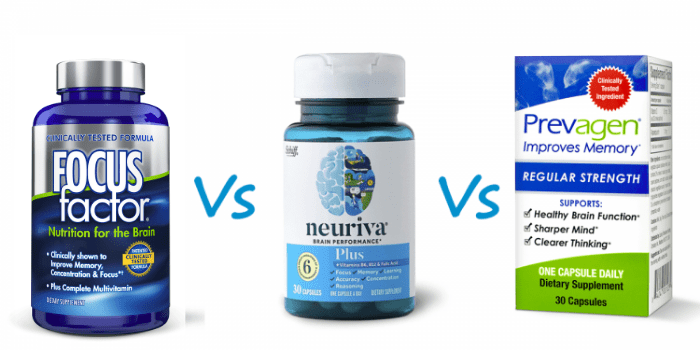 Focus Factor vs Prevagen
Both Prevagen and Focus Factor are quite popular brain supplements on the market. There is no doubt that Prevagen is much more popular and renowned compared to Focus Factor. Talking about the comparison, both Prevagen and Focus Factor make huge claims about improving the cognitive and brain health.
Where Prevagen claims to improve memory power and mental ability, Focus Factor is claimed to improve focus, concentration, and brain health. Prevagen's claims are quite hyped and unbelievable in first look. Talking about the ingredients and side effects, Prevagen uses more potent and high quality ingredients compared to Focus Factor, atleast considering the formulation mentioned on the official website.
Both supplements uses herbal and organic ingredients, therefore are considered safe from the possible side effects. But Focus Factor is more affordable and comfortable for your pocket compared to Prevagen. One major drawback about Prevagen is that it has been charged by the FDA and FTC for making false claims and violating the laws for supplement. That's why I suggest Focus Factor over Prevagen.
Focus Factor vs Neuriva
Both Focus Factor and Neuriva are formulated to help you in boosting your mental performance. Being immensely popular on the market, Neuriva is designed to support memory, focus, concentration, learning ability, accuracy, and reasoning. Focus Factor is not much lower in popularity and helps in improving memory, focus, recall ability, cognition, and mood.
Talking about the ingredients used, Neuriva uses fewer but focused ingredients in the organic form. Whereas, most of the Focus Factor ingredients are in the form of proprietary blend and therefore it is unclear about the potency of the formulation. But after analyzing the formulation side-by-side, it is clear that Neuriva is less effective than Focus Factor.
Neuriva uses less ingredients therefore there are minimal chances of getting encountered to side effects. Whereas, Focus Factor uses too many ingredients and therefore it is possible to being exposed to possible side effects. Talking about the value for money, both Neuriva and Focus Factor are affordable and equally priced. Overall, both are good and considerable supplements but Focus Factor is the good choice for results.
Prevagen vs Neuriva
Both Neuriva and Prevagen are the two most popular and top selling supplements on the market when it comes to brain health. Both Neuriva and Prevagen makes huge claims about their supplements and both target on supporting overall brain health through improved focus, concentration, memory, cognition, and accuracy.
Taking about the ingredients used and safety, both supplements use high quality and focused ingredients targeting on their claims about brain health. When it comes to safety, none of these supplements are claimed to deliver side effects but it is recommended by both companies to avoid using it if you are a breastfeeding or pregnant women.
Prevagen is much more costly than Neuriva and therefore if you are considering about your pocket, Prevagen could dis-balance your budget. Talking about which one is better among Neuriva and Prevagen, neither of them I would suggest because similar to Prevagen, Neuriva is also been charged a lawsuit for making huge claims for brain health without being backed by the evidences.
Focus Factor vs Noocube
Noocube is a popular nootropic supplement on the market that is claimed to help in increasing productivity and focus. Rather than making big claims about brain health, Noocube just focus on improving your focus, concentration, and mental clarity to improve your productivity at your workplace. Noocube also uses 100% natural ingredients that are safe and proven to be effective for your brain health.
Focus Factor vs Nootrogen
Nootrogen is not as much popular as Focus Factor, Noocube, Prevagen, and Neuriva but those who have used this nootropic supplement have remarked it as an effective choice for improving memory and cognition. Nootrogen also uses all-natural ingredients that are safe and effective for cognitive health. Compared to Focus Factor, though Nootrogen is not popular but it is actually proven effective.
My Verdict on Focus Factor Review
Focus Factor is indeed one of the more surprising turn of events that we've seen. Although we didn't completely agree with its ingredients, and still believe that it could be made better in that respect, Focus Factor shows us that it can still perform well. This is probably a reason why it's available on so many platforms from retailers to e-commerce.
Against our beliefs, Focus Factor performed well in our 2-month tests, and did so without posing any side effects.
Focus Factor still has some bad sides, though. Again, the 'four tablets a day' is incredibly inconvenient, and its formula could use some tightening up. However, for the price of $19.99 allowing for continued use for over a month. Focus Factor is a steal. It might not be the best available out there, but for those who are new to brain pills, or even those who are already experienced, but want a cleaner, less potent experience, try out Focus Factor.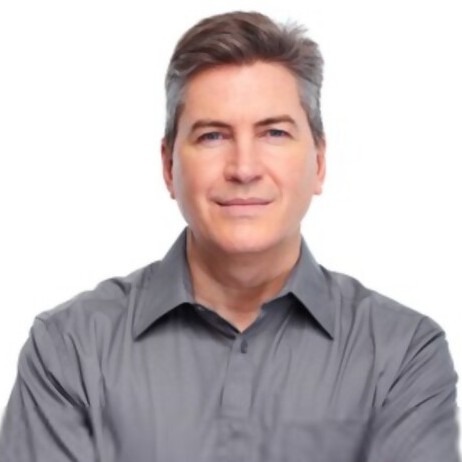 Hi, Myself Robert Dowling and I am one who created HonestProReview and currently working as a Chief Content Editor. At this website, I focus on informative content and product reviews related to general health and wellness such as neuropathic pain, joint relief, cognitive health, and much more.