Regular exercise is crucial in sustaining healthy weight and enhancing cardiovascular health. Finding a regimen that people enjoy and can stick to it is challenging for some people in regards to exercising. Life Fitness Treadmills are an excellent choice for individuals who want to obtain a great commercial-quality treadmill workout at home.
Life Fitness treadmills is been around in the gym equipment market for over four decades, and they have consistently produced a high-quality product. This top-tier company invented the first piece of computerized exercise equipment and has remained at the forefront of fitness technologies ever since. A Life Fitness Treadmill must be your top pick if you need a equipment that is built to last longer and improve your workout experience.
For most people, walking is a fantastic alternative because it is a low-impact, weight-bearing activity that successfully burns calories and raises heart rate. Weight bearing exercise is necessary to prevent bone density loss, which is prevalent as people age. Walking is an activity with no learning curve, it's a movement that everyone can do whether they want to lose some weight or improve their fitness.
Walking can also be scaled up or down depending on one's existing fitness level. As your fitness improves, you can raise the pace & intensity to burn calories. The most significant disadvantage of jogging, running, and walking outside is that you are exposed to the elements. This can be fully avoided by using a treadmill for your walking and running routines. Treadmill workouts are an excellent way to burn fat, lose weight, build muscle in the lower body, and improve overall fitness.
Features of Life Fitness Treadmills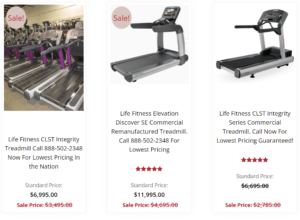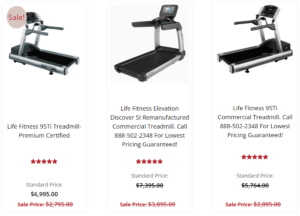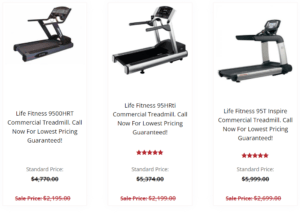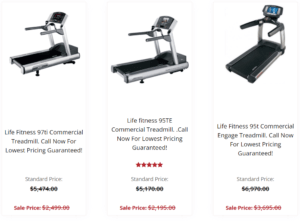 Life Fitness Treadmills are available in a multitude of shapes, sizes, and price points, each with its own set of features that will help you tailor your workout to reach the best potential results. It's tempting to choose the cheapest treadmill available when buying a treadmill for home, but this isn't always the greatest option. You should seek for a treadmill by a reputable company, such as Life Fitness, which manufactures long-lasting and multifunctional machines and is recognised for standing behind its products.
For a price less than $3000.00, you can get an excellent Life Fitness Treadmill with a range of options that enables you to personalize a workout for your individual needs and it will progress with you along with your fitness improves. The 9500HRT, 95Ti, 95Te, and 97Ti are all high-quality commercial machines with low costs. Life Fitness Treadmills have been designed to withstand daily usage and will last lifetime, even if your entire family uses it to walk or run.
Even the cheapest 9500HRT Life Fitness Treadmill has various pre-programmed workouts, a very precise heart rate monitor, and a broad, comfortable deck which works very well walking or jogging.
As you pay more for versions like the 95Te and 95Ti, you get access to more exercise programs and a greater range of interactive feature. The 95Ti treadmill features an attachable LCD screen, and the 95Te has an easy-to-use touch screen display for the interactive workouts. These machines are a little more expensive, but they are well worth it for individuals who desire easy monitoring, incredible interactivity, and a wide range of possibilities to enhance their workout.
The 95T Inspire and 95T Engage models are ideal for those looking for a high-level workout. These two Life Fitness Treadmills provide customised workouts by just touching a button, with the sheer magnitude of workout details noticeable throughout the workout – a quick quick glimpse at the large, easy-to-read screen will notify you how you're doing and whether you need to reconfigure your speed and intensity. Both of these treadmills include state-of-the-art, huge, shock-absorbing decks that allow users to walk, jog, and run at any speed while remaining comfortable.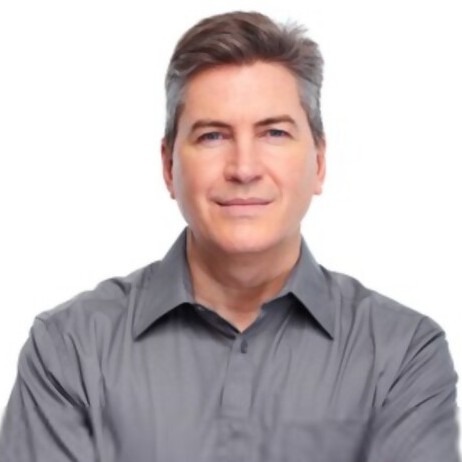 Hi, Myself Robert Dowling and I am one who created HonestProReview and currently working as a Chief Content Editor. At this website, I focus on informative content and product reviews related to general health and wellness such as neuropathic pain, joint relief, cognitive health, and much more.