The founders of Exposed Skin Care had one goal in mind when they started the company: to offer acne-prone people a line of facial care products that will clear their skin in 30 days or less. Acne & skin health may be improved in a noticeable way by combining science as well as nature, according to the brand's concept. With that said, let's start our Exposed Skin Care reviews.
Exposed Skin Care Reviews – An Overview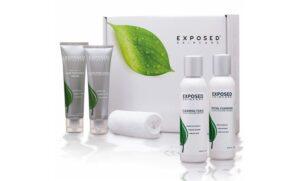 The company has so much confidence on their products' ability to deliver results that they provide a one-year money-back guarantee! We review a handful of products here at Honest Pro Review and only couple of brands actually offer unconditional money back guarantee.
If you're not sure if Exposed Skin Care is appropriate for you, continue reading to know about the company's best-selling products, active ingredients, actual customer reviews, and more!
Best Selling Exposed Skin Care Products
Exposed Skin Care sells their products separately or in three distinct kits, including:
Basic Kit (5 pieces)
Expanded Kit (6 pieces)
Ultimate Kit (9 pieces)
If you're unsure where to begin, the company's New Client Assessment can help you find the right package for specific skincare needs. Alternatively, you can check our review of the top Exposed Skincare products.
Exposed Skin Care Facial Cleanser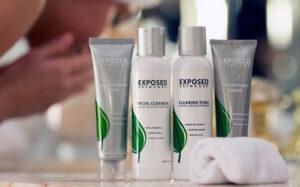 Salicylic acid is among the most effective acne-fighting compounds, in case you didn't know. It works by cleaning the pores lining, allowing trapped debris and oil to be released. It can also breakdown keratin, a protein that functions as a "adhesive" in the stratum corneum, keeping dead cells together. Because dead cells can accumulate on the skin's surface, making it look dull and perhaps obstructing pores, this method is beneficial.
The Exposed Skin Care Facial Cleanser is formulated with 0.5 percent salicylic acid and surfactants to protect your skin and clear off breakouts. While a maximum of 2% salicylic acid could be composed in any OTC medication, a lower dosage, such as 0.5 percent, is still efficient and gives less of a danger of irritation. Additionally, a calming mix of sage extracts and pro-vitamin B5 is included in this cleanser to help soothe any discomfort.
Exposed Skin Care Clearing Tonic
Inside the Exposed Skin Care Clearing Tonic, salicylic acid (at a dosage of 1%) is mixed to glycolic acid & azelaic acid. Using each of these acid substances on your skin might have seemed overwhelming, and they're all wonderful skin care compounds that prevent and treat acne in different ways.
We've already discussed the advantages of salicylic acid. What of glycolic acid, though? Glycolic acid is an alpha hydroxy acid that exfoliates the skin, promotes the skin's natural healing process, and aids in moisture retention. Corneocyte desquamation is a process that exfoliates the epidermis by attacking dead skin cells. The speed of cellular proliferation is increased by improving their disintegration and improving the dispersion of skin cells, resulting in smoother, and radiant skin.
Here's how azelaic acid works: it regulates the evacuation of dead cells and exposes the follicle, leading to fewer pimples. It's also been proved to stop acne germs from growing. It has an antibacterial impact on both anaerobic and aerobic microorganisms in vivo and in vitro, as per a research published in the American Academy of Dermatology's journal. Azelaic acid is among the most effective acne compounds because of its dual role.
Exposed Skin Care Acne Treatment Serum
Benzoyl peroxide (at doses of 2-5%) is indeed the golden standard for minor acne, as per a study published in the scientific journal Dermatology. That's precisely what the Exposed Skin Care Acne Treatment Serum has to offer.
By breaking the cell membranes, benzoyl peroxide is believed to completely kill P. acnes bacterium. Benzoyl peroxide can also help exfoliate & remove the outer layer. However, while benzoyl peroxide is efficient at killing P. acnes, it also destroys the healthy bacteria that protect your skin health. This can make skin feel dry and itchy, which can makes skin appear worse for some people.
This Exposed Skin Care serum contains not just 3.5 percent benzoyl peroxide, but also tea tree oil, which has been shown to destroy acne-causing germs. Tea tree oil can also help with existing pimples by reducing redness and swelling.
Exposed Skin Care Clear Pore Serum
This lightweight serum claims to help skin balance and clarify overnight. The recipe mixes 1% of salicylic acid plus witch hazel, a natural astringent, and anti-inflammatory ingredients such as green tea & licorice root. Because of a component called glabridin, licorice root can also give a significant skin lightening impact.
Exposed Skin Care Microderm Scrub
The main ingredient inside this Microderm Scrub is aluminium oxide, a crystalline combination of aluminium and oxygen. Aluminum oxide crystals have been used to actively exfoliate and rejuvenate the skin due to their abrasive structure. Aluminum oxide is utilised in microdermabrasion treatments all the time.
Aluminum oxide can aid in the removal of dull skin, the smoothing out of coarse skin complexion, the reduction of acne, the softening of fine wrinkles, the fading of scar & dark spots, and the stimulation of cellular proliferation and collagen formation. Furthermore, these crystals include 0.5 percent salicylic acid as well as calming components like chamomile & aloe vera. What's not to like about that?
Exposed Skin Care Body Wash
Do you have bothersome breakouts on your shoulders, neck, arms, and chest? If this is the case, you should use a salicylic acid-based body wash right away. To wipe away oil and dead skin cells & rejuvenate skin, the Exposed Skin Care Body Wash blends acne prevetning salicylic acid alongside purifying natural extracts. A small portion of peppermint oil is also included in the mix for a pleasant, cooling sensation.
Exposed Skin Care Clarifying Mask
Sulfur is among the earliest acne remedies known to man. Because it's a keratolytic, it is effective at reducing acne. Sulfur also has antibacterial qualities and helps to minimise skin oiliness. 3 percent sulphur is utilised in the Exposed Skin Care mask because of several acne-fighting characteristics. It's blended with bentonite and activated charcoal to create a mask which absorbs excess oil while also removing dead cells. This mask should only be used once or twice each week.
What Are The Key Ingredients?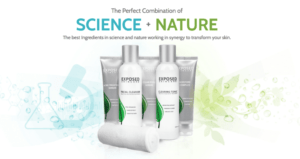 The main ingredients inside the Exposed Skin Care and beauty products include a combination of acne-fighting ingredients blended with organic botanical, as you may have seen. Benzoyl peroxide, salicylic, glycolic acid, sulphur, and azelaic acid are among the acne-fighting substances. All of these components have been scientifically proven to help treat and prevent acne.
Green tea extract, licorice root extract, passion flower extract, tea tree oil, sage extract, and aloe vera are among the other calming ingredients found in Exposed Skin Care. While each of these natural ingredients has its own set of advantages, they all have anti-inflammatory characteristics in common. If you're having trouble with acne outbreaks, anti-inflammatory substances can help to lessen the volume and redness of the pimples.
No paraben, triclosan, sodium lauryl sulphate, formaldehyde, artificial fragrance oils, or gluten are used in any Exposed Skin Care product. Go to the Exposed Skin Care website by clicking on "How Does It Works" to read more about the brand's ingredients. The brand has been doing an excellent job of defining each ingredient and backing up its claims with research. You may also find a complete list of components on each product's page.
Pros
All the ingredients are clinically tested
Lots of positive reviews
Doesn't include artificial coloring or synthetic ingredients
It is free of animal cruelty
Cons
Few products of Exposed skin care contain fragrance
Exposed Skin Care Customer Reviews
The majority of reviews on the official website are positive. The Exposed Skin Care Facial Cleanser has received over 130 5-star reviews, making it the most popular product.
The Facial Cleanser has received favourable reviews, confirming that it works to keep skin hydrated and is gentle enough for anyone with skin problems.
"Exposed Skin Care Facial Cleanser is indeed the great face cleanser out there and the sole item which I have discovered that worked for me. I've used it for a long time. I do use the Acne Serum, and these are the only 2 Exposed products I need it for clear skin." one extremely positive review writes.
Common FAQs
Is Exposed Skin Care Cruelty Free?
Exposed Skin Care products are free of animal testing. Animal experiments for ingredients, compositions, or finished goods are not conducted, commissioned, or paid for by the brand, and it promises not to do this in the future.
What is The Exposed Skin Care Return Policy?
"We will graciously accept return of any unused items within 30 days after delivery," says the Exposed Skin Care refund policy. Furthermore, Exposed Skin Care provides a one-year money-back guarantee. This means that you can utilise the goods you buy, and if you don't see a reduction in acne or smoother skin after a year, you can return your initial kit to the company for a complete cash refund (excluding shipping costs).
Where To Buy Exposed Skin Care Products?
Exposed skin care products are frequently sold on official website along with ecommerce portals like eBay and Amazon. Although, best place to buy Exposed skin care products is to order it from the official website. This allows you to claims money back guarantee and discounts offers.
What is the cost of Exposed Skin Care Products?
The price of Exposed skin care products are $59.95 for Basic Kit, $69.95 for Expanded kit, and $99.95 for Ultimate Kit.
Our Verdict on Exposed Skin Care Reviews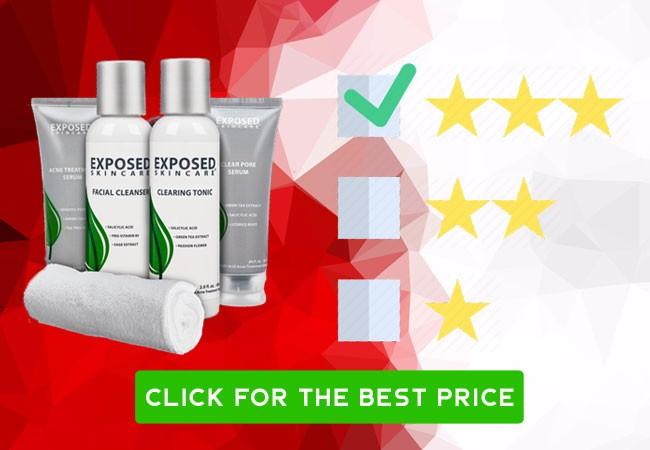 Overall, we believe Exposed Skin Care products seem to be well formulated, using a combination of acne-fighting actives and natural ingredients.
"I've been using it for many weeks & I find it equivalent to Neutrogena face treatments I can get at Wal-Mart.. I need to use it carefully because it dries out my face so much." " one reviewer writes.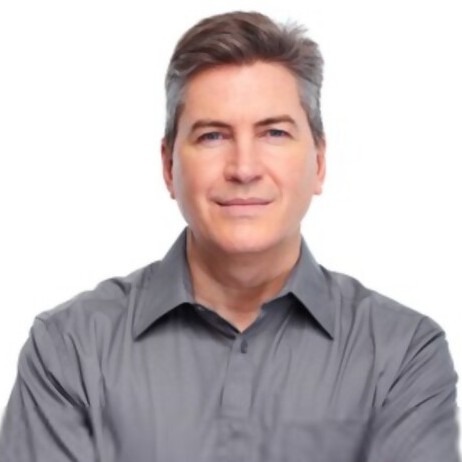 Hi, Myself Robert Dowling and I am one who created HonestProReview and currently working as a Chief Content Editor. At this website, I focus on informative content and product reviews related to general health and wellness such as neuropathic pain, joint relief, cognitive health, and much more.