If you want to lose a few pounds in a short time, then the soup diet is a good choice. As the name suggests, soup determines your menu during this diet. Is this diet something for you? It depends on. The diet has a number of advantages, but also a number of things that you have to take into account.
What is the soup diet?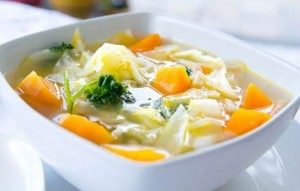 This diet has been developed in the United States and is also known as the Cabbage Soup Diet or "Sacred Heart" diet. It should be followed for seven days and causes a weight loss that is on average between 10 to 20 pounds. The chance that you also achieve such a result depends mainly on the discipline that you yield when you follow the diet. That is made easy because you have to use a fixed diet plan.
Which Soups can you Eat?
When you follow the diet, it does not mean that you put another soup on the table every day. The basis of the diet is formed by a soup, of which white cabbage is the main ingredient. In addition, you add onions, tomatoes, carrots, peppers, and celery. Furthermore, you can vary with vegetables and even fruit, but the basis remains the same. With a packet of soup mix, herbs and some flavor enhancers, such as soy sauce or Tabasco, you can tailor the soup to your taste preference. It is important that you stick to the mandatory ingredients because you also get enough vitamins and minerals. See also more information about the use of cabbage in your diet.
What else is on the Menu?
With this diet, soup has the leading role in your weekly menu. In addition, you can drink spring water, unsweetened tea and coffee, unsweetened fruit juice, skimmed milk and berry juice. The diet plan determines which extra foods you can eat on a certain day. At the start of your diet, these are mainly fruits and vegetables, which later in the week you can also add lean meat and fish and brown rice.
What can you absolutely not Eat?
All in all, you could say that you can not eat anything that is not indicated in your diet plan. It is precisely by keeping yourself to the prescribed menu on a daily basis that your diet is successful. What the absolute week is absolutely wrong, are bread, alcohol, carbonated drinks and diet drinks. Not only because of your weight loss, but also because "sinning" disrupts your fat burning process.
How often can you follow the Soup Diet?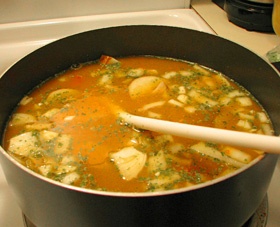 Because you only consume 800 to 1000 calories per day, this diet is a so-called crash diet. If after a week you do not have enough of eating soup, then it is in any case important that you give your body a rest. This especially to ensure that no nutrients are short. It is, therefore, necessary to build in at least two rest days after the week and not to follow the diet more often than two or three times per quarter.
What side effects does the soup diet have?
Except that you have to eat the same soup every day, you may not be aware of any significant side effects. Your low-calorie intake can lead to some headache, fatigue or feeling of weakness. You do get enough nutrients, however, in order not to have to look for supplements during your diet week. Because the diet mainly contains liquid ingredients, this also has an effect on your stool. When it becomes too liquid, a cup of bran or muesli can offer a solution.
Who is the soup diet suitable for?
Anyone who wants to lose extra pounds in a short time can follow the diet. Because your calorie intake is limited, it is not a diet you should follow when you need to deliver heavy physical performance. In addition, it goes without saying that a crash diet is unsuitable for pregnant women and you should first consult your doctor if you do not have optimal health. The soup diet is also quite monotonous, which not everyone is prepared for.
Will the lost pounds also stay away?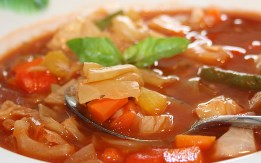 Although the soup from the diet is called a fat burning soup, you lose most of the moisture in this diet. When you start eating normally again, chances are that you will arrive again. As in everything, success also gives energy and motivation. Your soup diet could be a nice step towards changing your diet and the effective burning of fat. If you opt for healthy food, in that case, chances are you can continue to embroider on the results you have achieved with the diet.
Soup diet: Healthy or Unhealthy?
The soup diet is a diet that you can follow two or three times in a short time, without losing your essential nutrients. It is particularly suitable if you want to feel more comfortable in your skin quickly or for a specific occasion. Do you want to have surplus pounds out of the house for good and really change your diet? Then you do well to choose a diet that is more focused on fat burning and that you learn to ban bad habits.