How and Why Protein Is Needed To Build Muscle? Small molecules of amino acids linked together like beads on a string, are the building blocks of protein. The human body has various types of proteins, responsible for different functions of the body, like making organs, skin, enzymes, hormones, replication and repair of DNA etc. Protein also controls blood sugar level. How Much Protein Is Needed To Build Muscle?
How and Why Protein Is Needed To Build Muscle?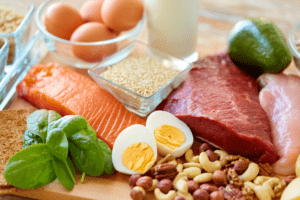 Like other tissues in the body, the progressive muscle tissues are also continually being broken down and rebuilt. Various amino acids are needed to build muscle. Human body is not able to make all. So, some of them have to be acquired from food, which are called essential amino acids. Protein containing foods are being broken down into amino acids by the body for building its own protein. Thus we found the connection between protein and muscle growth. Low protein intake creates amino acid deficiency in the body and muscle growth becomes impaired.
Quantity and Quality  – 
The amount of needed protein relies on the body weight, activity, age, goals and lifestyle of an individual. Deciding on lean body rather than the total body weight is probably a better idea for measuring protein needs. When it is about building muscle, a range between 1.2 to 1.8 grams of protein per kilogram of body weight brings out the best result, which is about 50 to 125% more than the basic need of protein to stay healthy.
Set A Range According To Your Situation – 
A fresher can benefit from eating little more protein, around 1.8 to 2.2 (0.8-1 gm per pound) grams per kilogram of body weight.
A female can benefit from eating a little less protein, around 1.4 to 1.8 (0.6-0.8 gm per pound) grams per kilogram of body weight.
An intermediate or an advance lifter can benefit from a middle range, around 1.6 to 2.0 (0.7-0.9 gm per pound) grams protein per kilogram of body weight.
If you are struggling with the question that, how much protein when cutting the simplest answer will be; "the more calorie receives from protein the better chance to retain and rebuilt lean muscles". So, protein for fat loss and muscle gain is fruitful.
Few Good Protein Sources – 
Beef: Grass fed cattle is a great source of beef, containing conjugated linoleic acid, which boosts in losing body fat and lean muscle building.
Brown Rice: A whole grain, providing energy for long time throughout the whole day and during workouts.
Oranges: Orange before workout will certainly boost muscle growth, strength and endurance.
Cottage Cheese: Packed with slow-digesting casein protein. Eating before bed is useful to prevent catabolism during the night when one fasts.
Milk: It has both whey and casein protein and packed with amino acid glutamine. Organic milk contains 70% more omega-3 fatty acids.
Apples: Polyphenolin in apple prevents muscle fatigue and supports to train harder and longer. Polyphenolin can also increase fat burning.
How Much Carbs to Build Muscle –
To maintain the fuel for training in order to build muscle, enough carbohydrate intakes is important, or else one will get muscle fatigue very easily and won't be able to perform exercises longer. 2 to 6 grams of carbs per kg body weight is a better idea to start with.