Do you think that coming up with a healthy lunch is such a challenge?
You're not the only one. We grew up in the Netherlands with a  bread culture.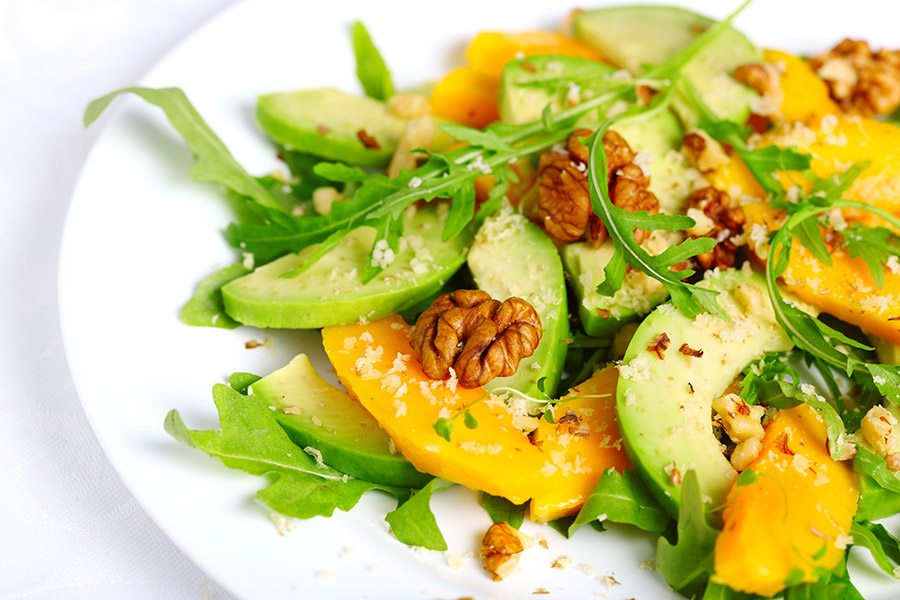 Not so long ago sandwiches for lunch and breakfast were the most normal thing in the world. Some of them ate 8 or more per day.
Meanwhile, we know that weight loss is easier when you limit your bread consumption. And besides losing a few kilos this can also be beneficial for your overall health.
But what can you eat as a healthy lunch instead of the traditional baskets? And how do you do that when you are often on the road or have lunch in a company canteen? And also not entirely unimportant: how do you keep the lunch varied?
In this article, I give you answers to these questions. In addition, I show you tasty and healthy lunch options that are good for your line.
 For the sake of clarity: I am not against eating bread. The healthier bread – such as wholemeal bread, spelled bread, rye bread, and sourdough bread – does not, in my opinion, have to be banished. But it may be a little less.
Benefits of healthy lunch
Do you remember this quote: "Breakfast like a king, lunch like a nobleman and dine like a beggar"?
Your lunch is the second most important meal of the day.
Yet many people have a luncheon, unhealthy and not varied. They quickly pop in some sandwiches and go back to work. Or even worse: they skip lunch and later in the afternoon grab a croquette or fries.
Sin. Because Healthy Lunch offers many Benefits …
Your blood sugar level remains more stable, so the after-lunch dip will largely stay away.
You will have more energy, a higher concentration and be more productive.
You can not go to unhealthy snacks later in the day: positive for your health and weight.
You get fewer calories and more varied nutrients. Also beneficial for your line and health.
Certain complaints such as a bloated stomach and intestinal complaints can sometimes reduce.
Not only what you eat but also how you eat is important. Do you want to take full advantage of the benefits? Then make time for your lunch, preferably eat together with others and chew every bite.
What can I eat as a Healthy Lunch?
You now know what the benefits are, but what does a healthy lunch look like? A balanced healthy lunch contains:
Nutrition that is rich in varied nutrients.
Not too many carbohydrates.
High-quality proteins.
Healthy fats.
There are – in contrast to what many people think – plenty of healthy lunch options. And you do not have to search the Internet for hours or buy expensive books for it. I've already done that for you.
You can roughly divide the healthy lunch options into the following categories: salads, omelets, smoothies and soups (there are of course more options).
We will take a closer look at these options …
Salads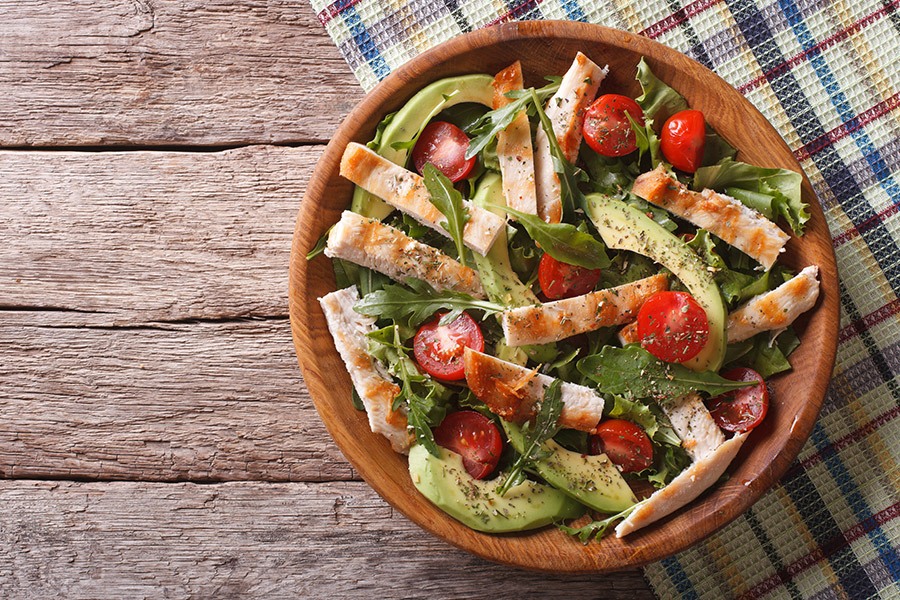 Let's start with my favorite way to lunch: a well-filled salad!
And I mean really well filled. After all, it is your fuel for the whole afternoon. If you have lunch, you can go back to dinner.
The preparation takes a bit longer than the spread of a sandwich, but this time I like to invest in my health. And in the long term, by the way, I think it will give you time (fewer sick days).
How do I make a healthy Salad?
The Base
Every type of lettuce contains other nutrients. My advice: vary as much as possible, do not take the same thing every day! For example, choose from …
Head of lettuce
Iceberg lettuce
Lamb's lettuce
Oakleaf lettuce
Spinach
Rucola
Roman lettuce
Bataviasla
Chard
Lollo Bionda
Lollo Rosso
Endive
chicory
Red chicory (Radicchio Rosso)
Enough choice seems to me. But a bit boring to eat only lettuce. How about vegetables?
Vegetables
Vegetables are packed with healthy nutrients. They not only provide your body with the much-needed vitamins and minerals. They also contain much more healthy substances that do not occur in other foods.
Choose multiple vegetables from the list below or go on 'vegetable safari' in the supermarket, greengrocer or toko.
Tomato
Carrot
Cauliflower
Beets
Celery
Bell pepper
Cucumber
Onion
Radishes
Artichoke hearts
Zucchini
You can also think of vegetables that you first have to cook: pumpkin, broccoli, sweet potato, legumes such as peas, lentils, chickpeas and various types of beans.
Choose as many vegetables as you want and discover your favorite taste sensations.
Proteins & Healthy Fats
By adding proteins and healthy fats to your salad, it really becomes a meal. You add both essential Marco and micronutrients.
The proteins and fats also give you a feeling of satisfaction faster. Choose from:
Chicken
Eggs: cooked or baked
Avocado (very healthy fats)
salmon
Tuna
Mackerel
Steak
Quorn (vegetarian pieces)
Nuts & Seeds
Nuts and seeds can enrich your healthy salad and provide a delicious bite. Make your salad extra crispy with:
Walnuts
Almonds
Brazil nuts
Hazelnuts
Pine nuts
Pumpkin seeds
Sunflower seeds
Sesame seeds
Quinoa
Dressing & Herbs
A real salad is of course not finished without a healthy spicy dressing. Make your dressing based on olive oil and vinegar (or lemon juice) and add your favorite herbs to it.
Olive oil
Balsamic vinegar
Lemon juice
Lime juice
Basil
Chives
Parsley
Mint
Thyme
Rosemary
Garlic
Pepper
Omelets
An omelet: simple and quick to make and with the right filling a suitable candidate for a healthy lunch.
I like to vary a lot when it comes to nutrition. Because even though I often eat an omelet; the ingredients are rarely the same. You can really vary endlessly.
The proteins in an omelet keep your muscles in shape and support you in losing weight. Vegetables make an omelet extra rich in nutrients and provide your body with slow carbohydrates.
With a healthy omelet, you will come through the afternoon.
Jammie: is the water already running into your mouth? How do you prefer to eat your omelet?
How do you make a Healthy Omelet?
As a basis, you take 3 eggs. Use both the egg white and the egg yolk. There are a lot of (cholesterol) fables about eggs running around claiming that they would be bad for you. And especially the egg yolk. Many people eat only the protein. Sin. The egg yolk is full of healthy nutrients.
Enjoy Lunch on the way or in the Company/Office Canteen
"Nice and nice, lunch with a healthy salad, omelet, green smoothie or well-stuffed soup, but how do I do that when I'm on the go all day or lunch at the company canteen?"
Of course, you do not always have a kitchen at your disposal and to always carry that blender with you …
Healthy lunch at work or on the road can be a challenge. Especially with all those temptations that lie in wait.
Company canteens, stations, roadside restaurants and petrol stations: locations full of temptations. From croquettes and cheese soufflés to soft drinks and candy vending machines. A range full of sugars, unhealthy fats, and E-numbers.
Nevertheless, a healthy lunch with good planning is certainly feasible. It mainly comes down to preparation and creativity.
Healthy lunch at work or on the road mainly comes to preparation. A smart girl is prepared for her lunch (this also applies to the gentlemen, of course)!
I advise you to purchase the following:
A good cooler bag
1 or 2 cooling elements
Good sealable Tupperware bins (different sizes)
Good lockable drinking bottle, 0.75 to 1 liter
With this healthy-lunch-on-the-road-set, you are completely complete.
Prepare your lunch the evening before and place it in a sealed Tupperware bowl in the fridge. This method works fine with a salad, omelet or soup. In the morning you put the Tupperware tray in the cooler bag together with 1 or 2 cooling elements.
It can also be done with a smoothie, but it tastes better if you prepare it in the morning. You can prepare the ingredients for the evening.