Why You Have Bleeding Hemorrhoids + Crucial Advice!
It is not exactly a topic that we will talk about extensively during a birthday party, and you soon get the idea that you are the only one in the world who suffer from hemorrhoids, but nothing is less true. It is a very embarrassing subject which is usually not brought out with much enthusiasm: Bleeding Hemorrhoids.
You can find what hemorrhoids are, what the symptoms and the treatments are, in this article. At the end, you get 5 crucial advice from me to stop hemorrhoids, and to prevent hemorrhoids in the future.
What are Hemorrhoids Exactly?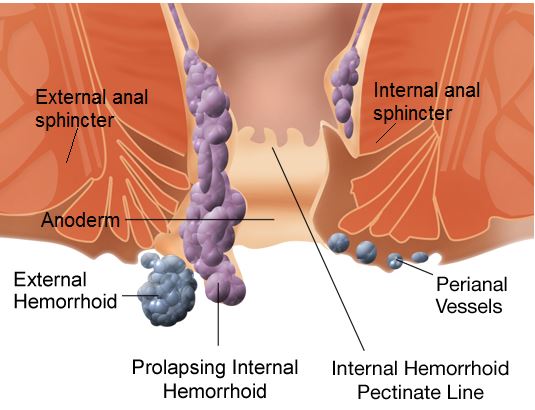 There are a large number of swelling bodies in your rectum. These are compositions of tiny blood vessels that play a very big role in supporting the sphincter. These swelling bodies will, if necessary, slightly swell to support the sphincter. If these swelling bodies start to swell to the extreme and start to sink, then there is Hemorrhoids. We call it popularly: Hemorrhoids. In many cases, the hemorrhoids are in the rectum, but it can also happen that they are so low in the rectum that they bulge outwards. This is certainly the case if the swelling is very large. We now speak of external hemorrhoids.
It is a condition that affects women more than men, especially after the age of 50. It is a very innocent condition, but it can be very difficult and especially painful.
And Bleeding Hemorrhoids then?
If the swelling bodies in your rectum are swollen, they cause a blockage. It is more difficult to get your stools along these swelling bodies. Eventually, it will succeed, because the hemorrhoids are flexible. But this only works with many presses. The hemorrhoids get a lot of pressure, plus the fact that the stool tries to pass. This can damage the hemorrhoids and cause them to bleed. If you do not take precautions, hemorrhoids will always bleed today or tomorrow. You then clearly see that there is fresh blood in the toilet bowl next to the stool. Also when wiping you see blood on the toilet paper. It is therefore important to make the bowel movement as easy as possible, and go directly to the toilet if you feel pressure. But more about this later.
The Complaints and Symptoms of Hemorrhoids
Symptoms and symptoms are now largely clear, but I still want to list them for you for the sake of completeness:
Often you have blood in your stool and/or on your toilet paper. This does not have to be decided but is often the case.
You often have a burning and unpleasant feeling around the anus.
You have to itch on your anus.
You feel pain when sitting. This is especially the case with external hemorrhoids.
With external hemorrhoids, there is a reasonable chance that a blood clot will cause hemorrhoid to swell even more, turn blue and cause even more pain. In that case, we speak of hemorrhoid with thrombosis.
What are Possible Causes?
The cause of hemorrhoids is very simple: Hemorrhoids are caused by very high pressure in the area around the anus. This pressure can have various causes:
You suffer from diarrhea for a long time
You sit on the toilet for too long. In other words, it takes too long before you have pooped. This can be due to constipation or blockages.
You press too hard to defecate. This may be because you are in a hurry, but it can also be that your stool is very hard making it difficult to squeeze it out.
You regularly suffer from constipation, from blockages.
In addition, there are a number of issues that increase the chance of hemorrhoids:
You have a sedentary job and you do little physical activity.
You eat too little fiber.
You are older than forty years.
You have just given birth, or you are still pregnant.
You suffer from obesity, in other words: You are considerably overweight.
You have family members who also regularly suffer from hemorrhoids.
Regular Treatment by a Doctor
Hemorrhoids do not always have to cause problems immediately, but it is still wise to report to the doctor. Of course, you have to make an appointment anyway if you suffer from bleeding hemorrhoids or if you have a lot of pain and/or itching. The doctor will then examine you and make the diagnosis. He will also investigate whether there is perhaps more to it, or whether the hemorrhoids are really not hemorrhoids, but an inflammation of the rectum. This may again indicate other conditions / But if we start from hemorrhoids, then the doctor probably will not do much. You can get medication to reduce the pain and itching, and the doctor will give you advice to make the stool as easy as possible, so without excessive pressure,
At the moment that any nutritional advice and medication are not sufficient, the general practitioner can do nothing for you, and you will be referred to a specialist. It has the choice of different types of outpatient surgery. In consultation with you, a choice is made here, but that, of course, depends on the situation, especially where the hemorrhoids are and how big they are. In the worst case, if it is an extremely large hemorrhoid, surgery will be needed. But luckily this happens rarely.
The Specialist has the Choice of 3 Treatments:
Treatment 1: Injecting Liquid
During this treatment, a special liquid is injected under the mucous membrane. Because of this liquid, the hemorrhoids will shrivel and eventually die.
Treatment 2: Searing
A treatment can also take place with the aid of infrared light. This UV light will seal the blood vessels of the hemorrhoids, causing them to die off.
Treatment 3: Tie down
It sounds a bit medieval, but this is the most common method to remove hemorrhoids: binding the hemorrhoids using elastic bands. The specialist applies these rubber bands, after which hemorrhoid slowly dies and 7 to 10 days after the treatment hemorrhoid falls off and is automatically transported with your stool. After applying the rubber bands you can have a little pain in the bottom of your stomach, but that quickly disappears. In some cases multiple treatments are necessary.
They are all three outpatient procedures. That means that you do not have to be admitted to the hospital. Before the treatment takes place, you will probably first have an enema to clean the rectum and the anus. So to remove all feces.
What can you do Yourself? 5 Crucial Advice!
As I just indicated, the doctor will initially send you home with a cream or ointment to fight the pain and itching. In addition, he will give you a number of nutrition and life advice to allow your stool to pass as easily as possible. You must follow this advice to cure existing hemorrhoids, but also to prevent the hemorrhoids from coming back in the future. Even stronger: To prevent hemorrhoids anyway, you can take the following advice to heart:
Venapro supplement is to improve your colon health condition and reduce digestive issues "Hey It's great, Click Here to Buy It."
Good Hygiene
If you are already suffering from hemorrhoids, it is important to wash properly if you have been to the toilet. At least first wipe your bottom with unscented toilet paper. perfumed products can provoke irritation, and that is what you cannot use now. Do not wash with products that contain perfume, but do this with lukewarm water. Then carefully dry it, actually dab it.
If you suffer a lot from pain and itching, a nice bath can sometimes work wonders. But again, do not add soap or other perfumed products to the water.
Good Toilet Habits
The moment you have an urge to defecate, it is important to go directly to the toilet. If you try to stop it, the stool will only become thicker, and it will become much more difficult later on and you will have to press hard. And pressing is precisely what you have to avoid. If you are sitting on the toilet, and you have pressure, press very gently. But let the natural urge do most of the work. If you have no pressure anymore, do not force anything. At the moment the pressure is there again, you just go to the toilet again.
It is also important to have a correct attitude. You should actually raise your feet slightly, so a small footstool is very useful. In addition, you have to bend your upper body slightly forward. This way you create the most space to get rid of your stool without too many problems.
Sufficient Movement
Not only is sufficient exercise good for your overall health, but the movements of the body stimulate the intestines in their kneading and pump movements. It is these movements that ensure that the stool becomes supple and is transported efficiently through the intestinal system. Also, avoid having a long period of time. This causes unnecessary pressure on the anus.
Sufficient Exercise is also good to maintain your weight, and that is good for a better digestion.
Eat Healthy and Varied
If you eat healthy and varied, you usually get enough good fiber. Fibers of wine are of great importance for your stool. It is often wrong to think that fibers only make feces thicker, but that is not true: Fibers attract moisture, making the feces smoother and softer. Fibers can be found in wholemeal products. So eat more wholemeal bread, wholemeal pasta, and wholemeal rice. Fruits and vegetables are also excellent suppliers of fibers.
Drink, Drink, and Drink Again!
But if you eat fiber, you also have to drink plenty of water. If you do not do this, the required water will have to be removed from somewhere else. Eventually, moisture will be withdrawn from the cells, and that is certainly not the intention. Drink 1.5 to 2 liters of water per day. Preferably just water! In any case, no coffee or alcohol! Even though it is liquid, the caffeine and the alcohol just drift moisture away and will ensure that the moisture is not absorbed by the body, but that you immediately expel it.
You can already see it: All these advice and tips are aimed at letting your stool pass with as few problems as possible: Going to the toilet without having to exert a lot of pressure.
But a good reader has long understood that this is ultimately the advice and tips for a healthy lifestyle. In other words: if you just eat healthy and varied, have good toilet habits, and also regular exercise, then the chances are very minimal that you will (still) suffer from hemorrhoids!