12 Herbs & Spices that help lose Weight Fast
For centuries, herbs and spices have been praised for their medicinal properties.
In all herbal medicine traditions (both Western and non-Western), which have already been going back for at least 50,000 years, it is all about finding the balance in both body and mind.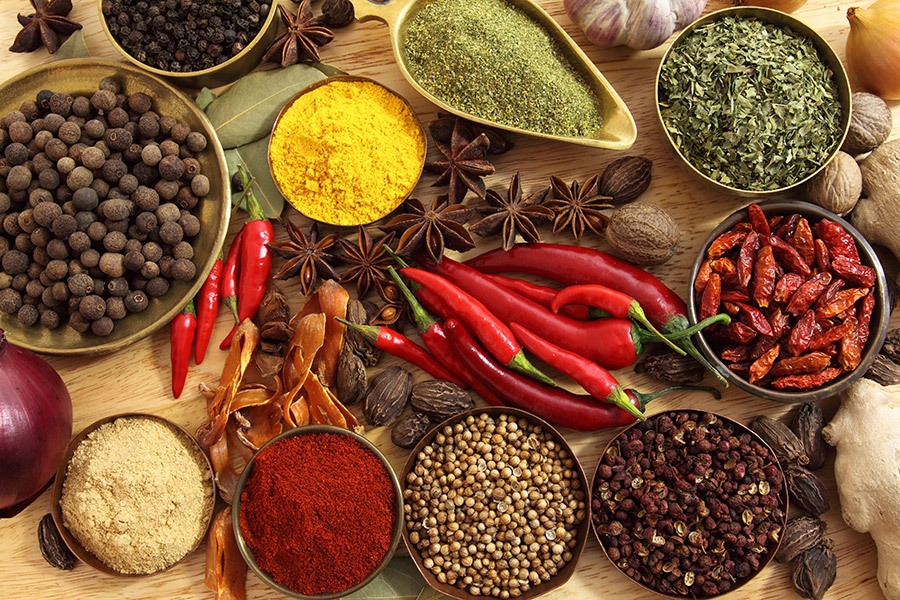 This also applies to the burning of fat. In this article, you can read how you can easily incorporate herbs and spices into your daily dishes at home in your own kitchen.
I do not claim that the kilos fly off, but in combination with a healthy diet, sufficient exercise and the avoidance of stress, this is a simple, cheap and natural way to contribute to a good metabolism.
And besides, it always motivates you to discover something new and to vary within your daily costs.
What are Herbs and Spices?
Herbs and spices consist of crushed leaves, roots, flower buds, stems, fruit parts or seeds of a plant. These extracts give taste and smell to food.
There are also many composed herbal mixtures, such as curry and Provençal herbs. The difference between herbs and spices is that herbs often come from countries with a temperate climate.
Especially the stalks and leaves of the plant are used.
Spices often come from countries with a tropical or subtropical climate. Processing mainly uses flower buds, pods and roots of the plant.
How do you use the Herbs and Spices?
Buy fresh herbs; they work most effectively to support weight loss. If your local supermarket does not have them, buy them on the market, at a supermarket or natural store, or online.
Many herbs can now also be cultivated very easily with ready-made packages (such as peppers); you do not need a vegetable garden, at most a few pots and possibly a balcony.
12 Herbs and Spices –
Cumin Seeds
This spice has a nutty taste. The iron in cumin seeds provides more energy so that you burn more fat.
It ensures good digestion and works anti-inflammatory and detoxifying. By using cumin seeds in cabbage varieties you ensure that the digestion is even better.
You can also use it in chicken dishes such as curry and tandoori, couscous and tagine (Moroccan stew) and chili con carne.
Cinnamon
For example, when you drink a fruit smoothie, your blood sugar levels rise. If you drink the same fruit smoothie with a teaspoon of cinnamon, your blood sugar will rise less. Your body then needs to make less insulin to drain the glucose into your cells.
Insulin also ensures that the surplus of glucose is stored in your fat cells. That is why insulin is often called the fat storage hormone. Cinnamon helps with a better glucose balance and therefore also with less fat storage.
Cinnamon also works antispasmodic and is therefore good for the intestines.
Cinnamon also helps the muscles to make more proteins and that is beneficial in sports. You can use it in, for example, yogurt, curd cheese, oatmeal, brine, fruit salad, unsalted brown rice with cream butter and various smoothies.
Whether for example on (buckwheat) pancakes, (homemade) spelled bread, and in cold or hot drinks, cinnamon is a delicious addition.
But also in savory dishes such as stews, bean dishes, and chicken. In the Indian kitchen, cinnamon is frequently used.
Dosage: from 1 teaspoon. A stick of cinnamon works just as well as a cinnamon powder (you can also suck on it as an alternative to sweets). Keep it cool and dry.
Cayenne Pepper
Also called red pepper or chili pepper. Also stimulates fat burning and also inhibits appetite. Also ensures a good bowel movement and gives energy.
To be used in, for example, a stir-fry dish, soups, sauces, dips and dressings (on a healthy basis of olive oil, vinegar or yogurt), fish and fried rice. Especially in Mexican and Indonesian cuisine, all kinds of peppers are used.
Wash the peppers before use. Remove the stalk and possibly the seed lists. Cut the pepper into small pieces. Do not use too much, otherwise, the taste will overuse and you may suffer from your stomach or skin. The smaller the peppers, the spicier they are.
Use latex gloves, if necessary, so that your hands and eyes will not prick and if necessary, you can safely insert your lenses.
Tip: wash your hands with olive oil (also under nails) and then with cold water beforehand and afterward. You can keep the peppers in a cool place for 2-4 days.
Ginger
Works well for digestion and the burning of calories. It works detoxifying and therefore helps with intestinal complaints such as diarrhea.
To be used in tea, soup, smoothies, in curries and satay sauce, in (healthy!) Biscuits and in (homemade and/or organic) jams.
Furthermore, tasty on chicken, on meat and rice dishes, with a game and with sweet vegetables such as carrot and pumpkin.
Delicious in combination with parsley and coriander. You can store the ginger, rolled up in a kitchen paper with a sealed plastic bag around it, for about 3 weeks in the refrigerator.
Or you cut the ginger into pieces and keep it in the freezer; then they can be kept for up to 3 months.
Oregano
Also known as wild marjolijn. Also good for digestion. Very suitable for oil-based storage when used in Mediterranean cuisine.
Can also be made tea. Available in refrigeration at most supermarkets. These are often on the pricey side and fade quickly.
Turmeric
Also called yellow root or koenjit. Cleanses balances your metabolism and removes harmful substances from the liver. For a better absorption of the spice, you can mix it with pepper.
Turmeric is a major component of curries. It is widely used in Eastern dishes on meat, fish, and eggs, but is also delicious in sauces and soups and to give your dressings a piccalilly-like taste.
The yellow color also gives off, so watch out for your hands and clothing!
Mustard Seed
Activates the metabolism (the metabolism). You can make all kinds of mustard yourself. You can also mix mustard seeds with your homemade ketchup, and you can enjoy potatoes, vegetables, and salads.
The following herbs and spices also have a good influence on digestion, stimulate fat burning and reduce hunger:
Cloves
To be used in, among other things, stews, red cabbage, game, and in mulled wine. It is better not to eat the clove itself because of its strong taste.
Pepper Powder
Available in the mild form and sharp shape (the latter comes from Hungary). Do not boil with the dish. Is widely used in Mexican cuisine (for example in Cajun spices).
Tasty over cabbage varieties such as cauliflower, in sauces, soups, and salads, over goulash and over (stuffed) eggs.
Parsley
Apart from garnishing salads, soups, and sauces, you can also mix parsley in your smoothie or use butter in the butter.
You can also chew on it; this works well for a fresh breath. This herb should not be boiled because then it loses its taste.
Fennel Seed
Has a diuretic effect. Aniseed flavor. In India, it is used as a solid ingredient in dishes. Delicious on sausages, in the bolognese sauce, on fish, in curries and in desserts. Spreading the seeds briefly gives a more powerful taste.
Currency
Also gives a full feeling after the meal. Tasty in tea, over desserts and fruit salads, in your smoothies, salads, chicken, lamb, vegetables such as carrots and green beans, cold and hot soups and for example homemade garlic sauce.
Finally
Of course, the above herbs and spices have a lot of other beneficial properties that give reason to use them regularly.
Consider, for example, the medicinal effect with regard to the organs (liver, kidneys, bladder), the skin, the throat and the healing of, for example, wounds.
So if you see a vague spice mixture somewhere where all kinds of promises are made with regard to weight loss, you can check with this list.
Never take too high a dose of certain herbs or spices. This can have an undesirable effect. For example, you may suffer from your stomach or high blood pressure.
And during the pregnancy, the use of certain herbs (such as cinnamon) is not recommended in connection with the effect on the unborn fetus.
Do you use herbs to support weight loss? And if so, are those herbs and spices or other? And maybe you have tips about dishes that best serve your favorite herb or spice.